Download The Sapling Build 10754397
Game Details
Release name : The Sapling Build 10754397
Size : 163.46 MB
Title : The Sapling
Genre : Simulation, Early Access
Developer : Wessel Stoop
Publisher : Wessel Stoop
Store: click here
Release Date : 12 Dec, 2019
Screenshots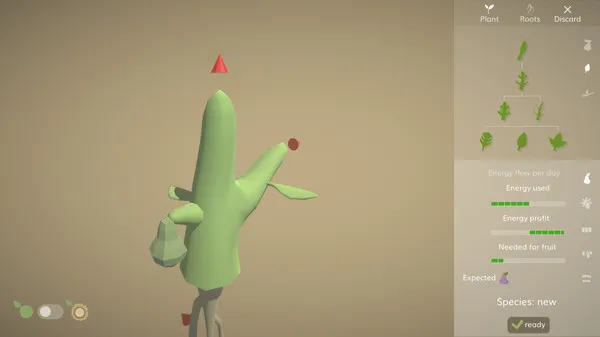 Gameplay
About This Game :
Design algae and plants
Whether you want a small flower that glows in the dark, black algae specialized for planets without a lot of sunlight, or a forest of giant trees covered in spikes, it's up to you.
Design aquatic, land and flying animals
Want a brightly colored fish that drags itself onto land to hide its eggs in burrows? Or perhaps a land animal that gives birth to live young and quickly runs from flower to flower to drink nectar? Or what about a flying carnivore specialized for diving and catching its prey underwater? Again, it's up to you.
Scenarios: learn the simulation step by step
While the simulation in this game can be deep and complex, it's introduced to the player step by step; it never becomes overwhelming. Each scenario tasks you to build an ecosystem that meets specific requirements, and introduces a small number of new concepts.
Sandbox: build your own planet
The sandbox offers the same functionality as the scenarios (but, obviously, with everything unlocked), but also much more: play with the procedural planet generator to get the exact planet you want, whether it's a desert world, an underwater world, or whatever you come up with. It even allows you to define up to 8 seasons to spice that ecosystem up a little. While playing, you can continue to change things: the next ice age is always only a few clicks away.
Turn on random mutations and see what evolution does with your ecosystem
The most exciting feature of the sandbox, at least according to solo dev Wessel Stoop, is
random mutations
. See your algae, plants and animals evolve to quickly fill available niches, see how some species are outcompeted immediately while others bloom for thousands of years… only to die out when their food source evolves a new trick to escape, and a completely different clade jumps in the now vacant niche.
System Requirements for The Sapling Download Free
MINIMUM :
OS: Windows 7
Processor: A processor with SSE2 instruction set support
Memory: 8 GB RAM
Graphics: Graphics card with DX10 (shader model 4.0) capabilities.
DirectX: Version 10
Storage: 150 MB available space
RECOMMENDED :
Memory: 16 GB RAM
How To Install The Sapling Download Free
1. Download The Game.
2. Extract with WinRAR
3. Play!.
Download The Sapling Download Free
 Direct Link
Download The Sapling Build 10754397 Direct Link