Download Plutocracy v0.233.5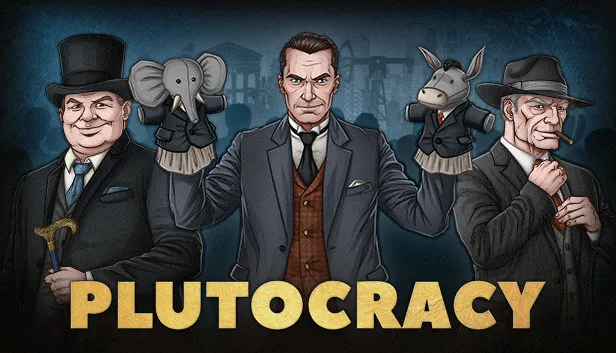 Game Details
Release name : Plutocracy v0.233.5
Size : 3.84 GB
Title : Plutocracy
Genre : Indie, Simulation, Strategy, Early Access
Developer : Redwood
Publisher : Redwood
Store: click here
Release Date : 21 Nov, 2019
Screenshots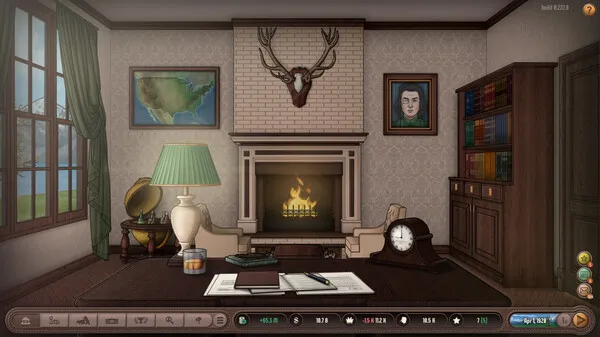 Gameplay
About This Game :
Immerse yourself in the "Golden Era" of the first US billionaires. Start from scratch and become a shadow ruler. Look for profitable companies, negotiate with shareholders to buy out controlling stakes and put your people at the helm. Absorb competitors' companies and dominate the market, making super profits.
Be prepared to lobby politicians and laws to expand your influence. Corrupt officials, create barriers and intrigues against enemies. There are whole historical layers in front of you that you can influence. Create the most powerful financial empire. But remember: no one should know who really rules the world.
The game reflects the real dynamic mechanism of the economy of companies and the country. Having reached large-scale levels, you can influence the dynamics of prices, GDP, unemployment, etc. of the whole country.
We know how tiring excessive micromanagement is, so in addition to manual management of processes within the company, we also made automatic. Appoint directors and they will take over the routine processes. Create the most appropriate strategy for the current market realities and delegate management tasks to the board of directors.
In the game, you can increase the production plan of workers, the length of the working day and reduce wages. But the threat of a strike will grow, the accident rate of the enterprise will increase. The staff will be furious, all the unions will turn on you, but the profitability of the companies will increase.
The strike will affect the volume of production, companies will suffer losses. Will you satisfy the demands of the demonstrators or disperse the crowd of discontented with the help of corrupt police officers? Will you squeeze all the juices out of the employees, acting as tough as possible, or will you motivate the staff in a different way and improve their skills? Every decision has its own consequences.
Issue stocks and bonds, capitalize your companies and bring them to the stock exchange. Unite your companies into trusts and monopolies, expand your zones of influence and capture market shares. You can merge companies and absorb small ones in the market. Or you can use more dirty methods of competition.
Establish trusting relationships with the heads of companies and enter into a conspiracy with them, uniting in cartels. Together, you can drop the prices of products on the market and squeeze out competitors, and after establishing a monopoly, raise the price 3 times! Organize strikes and sabotage at competitors' enterprises, disrupt supplies and block logistics.
The market is a living self-organizing matter in which the functioning of industries is interconnected. For example, you can buy out all the transport companies in the region and increase the price of supplies for competitors several times, as Rockefeller did in the midst of capturing the oil market.
No one wants to suffer losses. Gnashing their teeth, competitors will be forced to sell their companies to you sooner or later. But do you have enough resources for such a costly strategy? Or should we act through loyal politicians and strangle competitors with the necessary laws?
Choose any available industry and absorb the market. Destroy your competitors, be ruthless on the way to your goal. You can develop and improve the infrastructure of your enterprises. Technologies bring many times more profit! Build new buildings, plan expansion and receive increased dividends. The game will give you the right to choose how you can achieve economic power.
In the game, the executive branch is represented by officials at the federal and local levels. The governor is responsible for the welfare of the state, the treasurer for finances, the prosecutor and the police for law and order.
You will meet a simulation of the real process of adopting the law both at the regional level and at the level of the whole country. The game simulates the real political system of the United States. Politicians solve significant problems on issues of financing, taxation, management, business, education, healthcare, migration, social programs and others.
You can hire political lobbyists who can cunningly and skillfully find arguments to promote a law that is beneficial to you or an unfavorable law for your competitors. Sponsor election campaigns of politicians, and they will not be left in debt when you need their help. Or collect compromising materials on them and use the media controlled by you, so as not to leave a chance to keep their post to those who refused to become your puppet.
The necessary bills will open up new opportunities for you to increase your fortune. Become famous in political circles, increase your status and establish favorable relations with influential officials and politicians.
The political parties of Republicans and Democrats differ in their ideologies. So, if you are an adherent of the policy of crony capitalism and want the government to have less influence on the regulation of market relations, then you should enlist the support of Republicans.
For example, you can create your own monopoly and push through a bill that reduces corporate taxes. Greed is not always good, learn to balance and juggle the interests of all parties and clusters of society so that your monopoly does not collapse like a house of cards.
But if you think that the bills of the democratic parties on the promotion of social programs that reduce unemployment, increase wages, provide benefits to the population and so on are the most suitable for your interests, do not miss the opportunity to push the bill to its signing and adoption!
Use politicians and officials for your own purposes. Will you improve the well-being and standard of living of the population or will you only care about your own well-being?
If you want to play dirty, you should use agents of influence who are your assistants in difficult situations. There are many unique characters whose hands you can fight with competitors. Create political intrigues, secret fraudulent manipulations and win the competition!
You have a huge set of tools: you can use methods such as arson, accidents, etc. And also use secret and cunning methods: organize strikes and block production to competitors, evade taxes, influence the stock market, use the services of a journalist and the media, and more. But be careful, every illegal action is strictly punishable by the court! Well, or make sure that the judge and the prosecutor are on your side.
In the game, economics and politics have a human face: 15 thousand characters, including shareholders, officials, politicians, have their own interests, fears, ambitions that can be used as leverage. Just imagine a game world in which all the characters interact with each other, buy shares, lobby their interests, try to arrange their lives.
Organize routs and make useful connections among influential people. Give gifts, help people realize their ambitions and you will get access to enormous resources. In the game, each character may pose a threat or have access to game resources. Therefore, choose with whom to make connections, consciously!
Win luxury items at auction. Win the competition for prestigious lots and increase your social status. Buying horses, you can win money at the races. Rare coins or paintings will definitely increase in price! Buy houses and get stable annual rent, thoroughbred horses, cars, yachts and aircraft to dazzle the upper class with your luxurious life.
Collectibles and luxury items are also a tool for building friendly relationships. If any influential person is fond of rare coins, then why don't you become a collector and make friends at the upcoming social event, like Rothschild and the Prince of Hamburg at the time?
An unforgettable adventure awaits you, a long, luxurious, but difficult life. Powerful companies, corrupt politicians and money-hungry stock sharks… Will you have enough willpower and wit to resist in this fight?
System Requirements for Plutocracy Download Free
MINIMUM :
Requires a 64-bit processor and operating system
OS: Windows 7 (only 64 bit), Windows 8 (only 64 bit), Windows 10 (only 64 bit)
Processor: Intel Pentium CPU G645T, 2,5+ GHz
Memory: 4 GB RAM
Graphics: Geforce 7800, AMD HD 4600, Intel HD3000 or similiar
Storage: 2 GB available space
Sound Card: DirectX compatible
Additional Notes: Internet connection required for online multiplayer
RECOMMENDED :
Requires a 64-bit processor and operating system
OS: Windows 7 (only 64 bit), Windows 8 (only 64 bit), Windows 10 (only 64 bit)
Processor: Quad Core CPU
Memory: 6 GB RAM
Graphics: GeForce 560 or higher, AMD Radeon HD 5800 or higher
Storage: 2 GB available space
Sound Card: DirectX compatible
Additional Notes: Internet connection required for online multiplayer
How To Install Plutocracy Download Free
1. Download The Game.
2. Extract with WinRAR
3. Play!.
Download Plutocracy Download Free
 Direct Link
Download Plutocracy v0.233.5 Direct Link