Download Ancient Battle Rome Build 7765776
Game Details
Release name : Ancient Battle Rome Build 7765776
Size : 600.72 MB
Title : Ancient Battle: Rome
Genre : Strategy
Developer : HexWar Games Ltd
Publisher : HexWar Games Ltd
Store: click here
Release Date : 15 Aug, 2017
Screenshots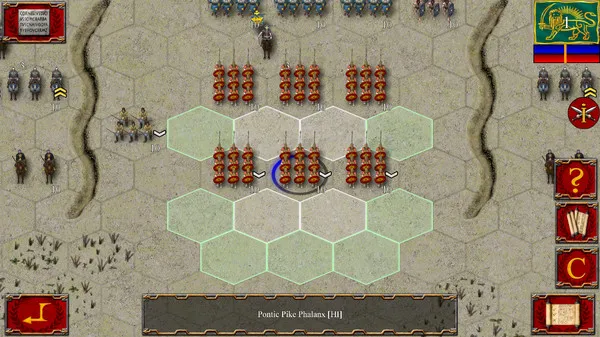 Gameplay
About This Game :
Designed from the ground up Ancient Battle: Rome gives a unique wargaming experience. Use Roman legionaries, elephants, catapults, heavy and light cavalry, archers, slingers, fanatics and many other unit types to engage in classic battles.
The game features a total of 63 missions, including 'Caesars campaign in Gaul' culminating in the classic siege of Alesia, and the campaign between Julius Caesar and Pompey the Great, including the battle of Pharsalus.
The new Mac edition includes all the campaigns from the iOS version such as the invasion of Brittania with the highlight of Queen Boudicca's demise at the battle of Verulamum, and Germania with the Roman massacre at Teutoburger Wald.
It also includes the infamous Parthia campaign where a whole Roman army perished in the desert and the Pontic campaign against Mithridates the Great. These later campaigns add fully armoured cataphracts, light and scythed chariots, light cavalry archers and the Greek Pike Phalanx to the game system.
System Requirements for Ancient Battle: Rome Download Free
MINIMUM :
OS: Windows Vista/7/8/8.1/10
Processor: Intel Core 2 Duo or AMD equivalent
Memory: 2 GB RAM
Graphics: OpenGL 2.1 supporting graphics card
Storage: 1 GB available space
RECOMMENDED :
Graphics: Discrete graphics with 256 MB or more VRAM
How To Install Ancient Battle: Rome Download Free
1. Download The Game.
2. Extract with WinRAR
3. Play!.
Download Ancient Battle: Rome Download Free
 Direct Link
Download Ancient Battle Rome Build 7765776 Direct Link